Artists

Goitse
The popular and multi-award-winning quintet Goitse was forged in the white-hot creative crucible of Limerick's Irish World Academy. Named Live Ireland's "Traditional Group of the Year", Chicago Irish American News' "Group of the Year", as well as winning the prestigious "Freiburger International Leiter 2016" award in Germany, Goitse have become a leader of the new generation of traditional Irish ensembles.
Goitse has released four critically acclaimed recordings and maintains a year round touring schedule that includes performances throughout Ireland and the UK, Germany, France and the United States. Their distinctive sound lies in the quality of their own compositions interspersed with traditional tunes from the countryside of Ireland and
abroad, which make each performance unique.
Laying the foundations for the music are World and All-Ireland Bodhrán champion Colm Phelan and Conal O'Kane, who is fast making a name for himself as one of the finest guitarists of his generation. The gripping rhythm section sets a powerful drive for the music while the sweet, charismatic voice of Áine McGeeney draws audiences into a song the way few performers can.
Together, the quintet Goitse makes what Irish Music Magazine calls "Music that's brimming with energy and creative zeal."
French for 'night-owl,' Noctambule are Marla Fibish and Bruce Victor from San Francisco. They play traditional and original music in a variety of forms – traditional Irish tunes and songs, their own tunes written in traditional forms, and compelling musical settings of a broad array of poetry.
This unique collaboration brings out special qualities in these seasoned musicians. Their music is rendered with lush beauty, sensitivity and humour on an unusual array of strings – various guitars in varied tunings, mandola, mandolin, cittern, tenor guitar – and their blended voices.
In performance, Bruce and Marla take you on a journey. Their love of traditional music shines through their instruments. They wrap you in their crafted songs, bringing an unusual array of poetry to life with their music and their voices.
Reviewers have described their work with such phrases as – 'irregular phrases, unpredictable meters and strangely beautiful harmonies'; 'glittering musical imaginations grounded in joyful glorious experience' and simply, 'folk music at its best – hand made, without a template'.
Marla is one of the prominent voices of the mandolin in Irish music. She brings a deep and distinctive sensibility to the music on one of its lesser heard instruments. Bruce is an eclectic and accomplished guitarist and composer, who plays different guitars in different tunings. Seemingly resisting any single musical genre, he has been labeled a 'poly-stylist' by one of the editors of Acoustic Guitar magazine.
A Noctambule experience is like no other – a wake-up call for body and soul.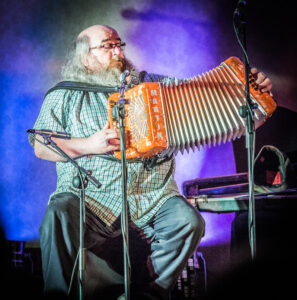 Martin Donohoe and NYAH CCE Martin organised the first Gerry Whelan memorial event on July 8, 2005. This was a memorial concert, where musicians and friends of the late Gerry Whelan gathered to pay tribute to one of the true friends of music, musicians and music lovers. It was because of Martin's foresight and vision that the festival was born and has become a weekend event, where friends of music, song and dance gather together to meet and pay tribute to the the late Gerry Whelan.
A native of Cavan Town, Martin Donohoe is an accordion player and Shannon Side Northern Sound Radio Presenter. A native of Cavan, he is a gifted traditional musician and highly regarded in traditional circles for his dynamic personal style on the accordion and unique, individual interpretation of the music, Martin's music has been recorded and released in a number of albums on the Clo Iar Chonnachta Label & NYAH label .
The NYAH Comhaltas branch from Co Cavan runs regular sessions throughout the year. It organises concerts/ CD launches & the NYAH Festival every March plus offering tuition in music & song .It's Members were featured on RTE's Radio 1 'Céilí House with a NYAH Special which was Broadcast on RTE Radio 1 in November 2017 and have performed in London , Birmingham, Glasgow & throughout Ireland. The Branch also puts on a series of CCE Seisiún Shows throughout the months of July and August every Wednesday in Farnham Arms Cavan Hotel & Widows Bar Belturbet every Thursday . In 2020 NYAH CCE will host the Ulster Fleadh in Cavan Town .
Taking part in the memorial concert with Martin from NYAH CCE will be Hannah O Reilly (song) All Ireland Fleadh Under 12 Singing Winner 2018 joined by her brother and sister Charlie & Emily, Ellen Grant & Jack Grant Accordion & Whistle, Padraig Conroy Button Accordion 2018 Ulster Champion. All Ireland Fleadh 2017 Whistle & Flute Winner, Barry Conaty, Zoran Donohoe Concertina, Niall & Seán Curran Pipes & Flute – Sean got 2nd Place in 2017 All Ireland Fleadh Under 12 Pipes competition and their dancing sister Aoife Curran and the wonderful three dancing Duffy Brothers.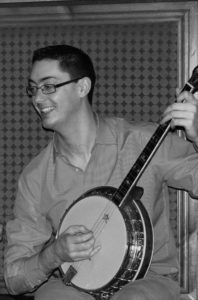 Daithi Kearney – Banjo and Other Instruments
Daithi is co-director of the Creative Arts Research Centre at Dundalk Institute of Technology, lecturer in music and Director of the Institute's Traditional Music Ensemble. An All-Ireland champion musician, he has toured and recorded as a musician, singer and dancer with a number of groups including Siamsa Tíre, The National Folk Theatre of Ireland, and performed for President Obama in The White House. He recorded the critically acclaimed album Midleton Rare with accordion player John Cronin in 2012 and continues to tour regularly. Recent research includes a collection of the music of Monaghan composer Brian O'Kane. In 2017 he released an album with piano accordion player Adèle Commins entitled A Louth Lilt, featuring their own compositions. Daithi is a musical director of the Oriel Traditional Orchestra.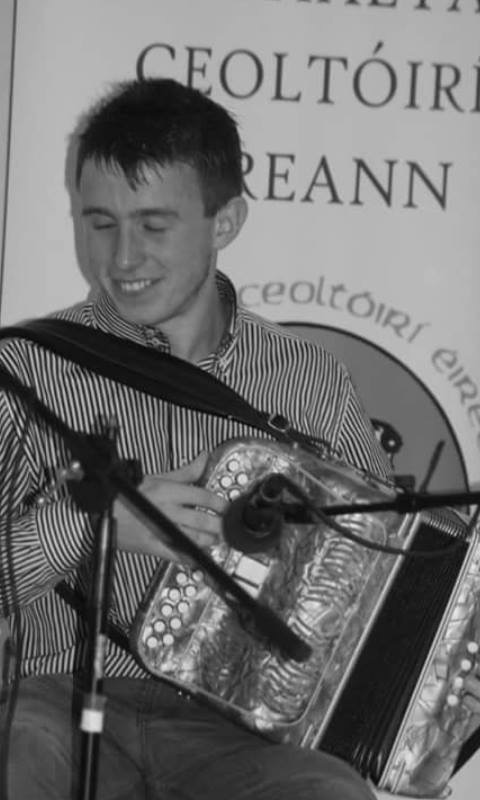 Fergus Bogue – Button Accordion
Fergus was taught music by the Geoghegan family. Other influences include Darren breslin, Oliver divinney and finbarr dwyer. He loves playing in sessions and have made many great friends through the music over the years. His father and sisters play too and they regularly fall out deciding what tunes to play.
Fergus launched his debut solo C.D. Díreach ón gCroí in May 2019. He is joined on the C.D. by his sister Mairead on fiddle, Gerry McMahon on guitar and Gearóid McNamara on piano. The proceeds of the C.D are being donated to the Babies in the Bush Orphanage, Hammenskraal Dinokeng and Butterfly for Change Day care crèche which Fergus visited with Ceoltóirí Chnoc na Gaoithe during our trip to South Africa for St. Patrick's week celebrations.
Noreen McManus has been actively involved in Traditional Music in the North East for over twenty years. She started fiddle under the tutelage of the legendary Martin Mulvihill, New York and at age 11, won the North American Championship in Solo, Duet, Trio and Ceili Band. Noreen has travelled extensively, performing at festivals and Irish Embassies throughout the world. As well as being a musician with various Folk and Traditional bands throughout the years, Noreen has also been sought after to teach Fiddle, Grupai Cheoil and Ceili Bands and is Fiddle Tutor in DkIT. Her dedication to the promotion of Traditional music in the area has led her to form "Cuchulainn Celtic Strings," a community based music group that performs at various festivals, sessions, sporting and charity events. Noreen is a musical director of the Oriel Traditional Orchestra.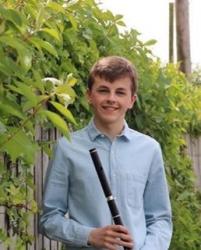 Barry Conathy – 2017 Double All-Ireland champion on Flute and Tin Whistle
Barry is from near Ballyhaise, County Cavan, Barry has been playing music from his earliest years and besides flute and tin whistle, he plays piano, as well. He has won Ulster and All–Ireland titles on all three instruments. He has developed a keen interest in composing tunes and is inspired by the likes of Michael Rooney, Ciaran Tackney and Joanie Madden. Barry has been featured on radio and television with Ellen Grant & Zoran Donohoe from the Cavan Bucks Trad group. Barry has been invited to join Legacy Comhaltas Folk Orchestra which is made up of over sixty of the finest young traditional and classical musicians from over 20 different counties in Ireland and from the U.K. He also will be participating in the 2018 Comhaltas Tour of Ireland.
Barry received a Distinction in the SCT Traditional Irish Music Examinations at Grade 8 level and was awarded the Mícheál Ó hEidhin Gold medal.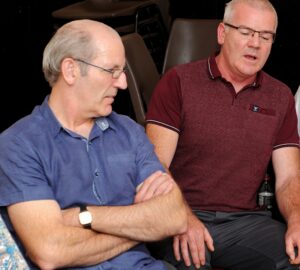 The Quinn Family Mullaghbawn
Sons and daughters of the late Mick Quinn (a great supporter of the Gerry Whelan festival for many years) will be the guest artists at the Singing / Storytelling event on the Saturday afternoon of the festival.
The Quinn family will be joined by a great friend of their father's Frances Rodgers from Downpatrick. A traditional singer for many years, she has gathered her vast repertoire from singers from the four corners of Ireland. Fascinated by the insight into the hearts, minds and life styles of the times that they portray, Frances sings her songs in a direct style with true affection.